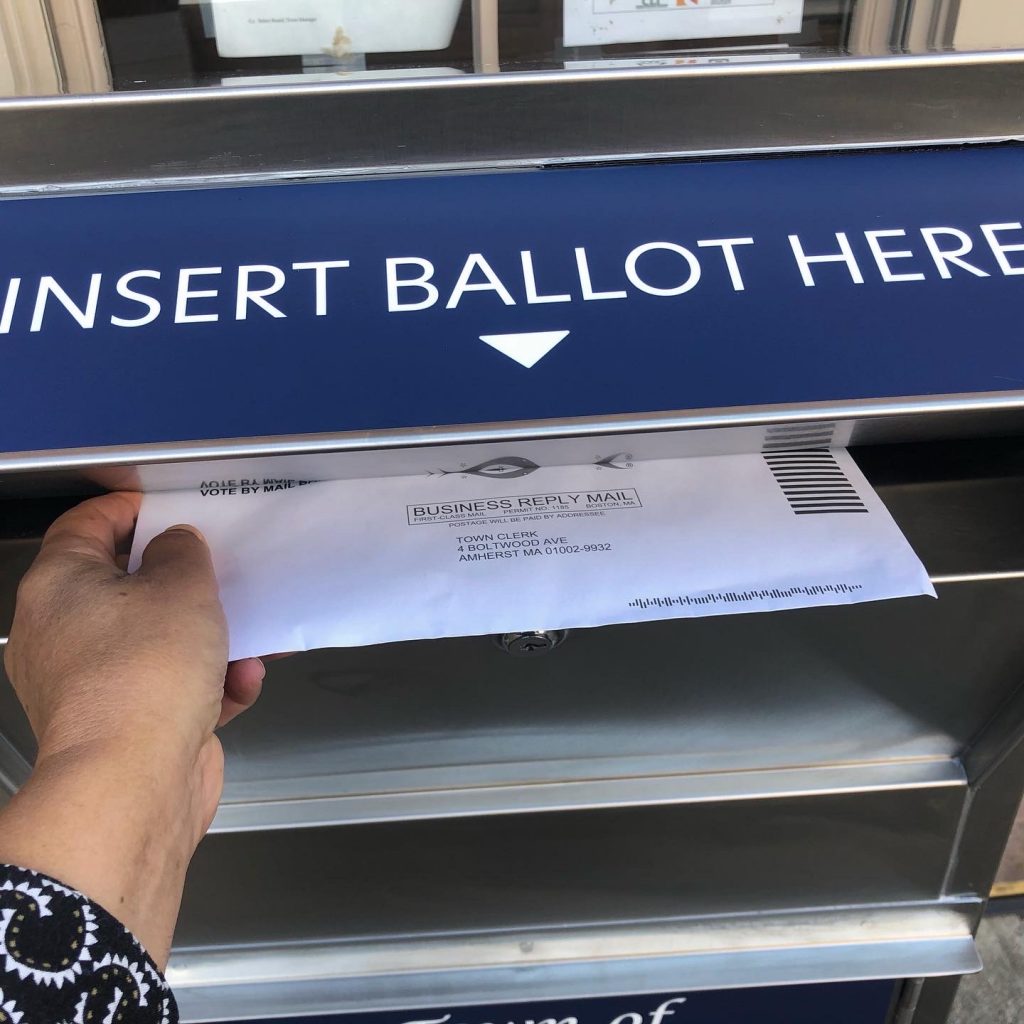 VOTING BY MAIL IS A 3 STEP PROCESS:
(1) Completing and submitting an application for a ballot (by the deadline)
(2) Receiving the ballot, and
(3) Completing and submitting the ballot (voting!)
In order to get a ballot, you need to complete an application and return it to your town Clerk.
IF YOU DID NOT RECEIVE AN APPLICATION FOR A BALLOT TO VOTE BY MAIL…
Apply online (here) or download an application (here), print it, complete it, and mail it to your town clerk (postage paid) or deliver it in person to your town's drop box (find it here).
WHEN ARE THE APPLICATIONS FOR MAIL-IN BALLOTS DUE?
Your application must be received for a vote by mail ballot is due by October 28 at your town clerk's office for the November election (the recommended date is October 20 to be on the safe side). Once your application is submitted, your town clerk will mail you a ballot with pre-paid return postage.
GETTING AND COMPLETING THE VOTE BY MAIL BALLOT
When you receive the ballot, it's important to complete it and return it as soon as possible. It needs to be postmarked by Election Day (November 3) and received by your town clerk by Friday, November 6, 2020 in order to be counted.
When you complete the ballot, please follow the very specific instructions regarding where to sign your signature and the envelopes to use to return it. The ballot has to be in the secrecy envelope and the envelope has to be signed.
WHAT IS A NAKED BALLOT?
Ballots arrive with two envelopes: one to put the completed ballot in (known as the "secrecy envelope" to keep you ballot secret) and one to use for mailing the ballot back to your clerk.
Ballots that are submitted without the secrecy envelope are called "naked" ballots and will not be counted in Massachusetts.
The voter should put their ballot in the secrecy envelope, follow directions on where you should sign your signature, place the secret envelope into the mailing envelope, and send or deliver.
Please be sure to seal your completed ballot inside the secrecy envelope before returning it in the mailing envelope.
RETURNING YOUR BALLOT
When returning your ballot, please make sure you've followed all the directions, included all necessary envelopes and included your signature where directed.
You can return the ballot in one of these ways: by mail (postage is paid!), or in a secure dropbox. You can find the location of your town's secure drop-box here.
Pelham residents: information on returning your ballot here. (11/1/20)
TRACK YOUR BALLOT.
You can track your ballot and whether or not it has been received.