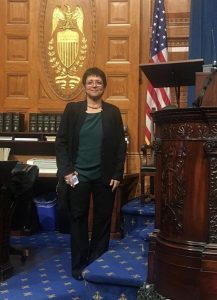 Mindy was elected in November 2018 to represent the residents and communities of the 3rd Hampshire District, which includes the towns of Amherst and precincts 1 and 2A in Granby, in the Massachusetts House of Representatives.
Background
Mindy brings to the State House decades of experience as a community organizer, public health educator, nonprofit executive, trainer, program developer, advocate, and congressional aide. She has developed innovative services through partnerships, community education, and community coalitions in Western Massachusetts and across the Commonwealth.
From 2013 -2018, prior to her election to the Massachusetts House of Representatives, she was the Executive Director of the Amherst Survival Center, connecting residents of Amherst, Granby, and surrounding towns, to food, clothing, healthcare, wellness, community, and a variety of other services. Under her leadership, the Amherst Survival Center expanded its basic needs programs, increased access to services, and offered more opportunities for the community to engage and participate in the development and delivery of programs. She helped to formalize the organization's volunteer program and develop and implement the it's strategic plan.
Previously, Mindy led statewide programs in Massachusetts to train staff of drug and alcohol treatment programs, jails, and homeless shelters on issues of HIV/AIDS, hepatitis, harm reduction, and opioid overdose prevention. In addition, she directed a training program for health and human service providers to support LGBTQ youth. Her work was recognized by the U.S. Centers for Disease Control and the International Harm Reduction Association.
Mindy was a co-founder of the Berkshire AIDS Coalition, served as the Department of Public Health's Regional Coordinator of its HIV testing program, and started and conducted Massachusetts' first jail-based HIV education program in the Berkshire County House of Corrections.
She was a member of Amherst Town Meeting, she also founded Make It Better Amherst, a network of allies that formed in response to the suicide epidemic of LGBTQ teens.
Before moving to Massachusetts, Mindy worked for Congressman Ted Weiss (D-NY), opened his lower Manhattan district office, conducted constituent services, advocated for a federal response to the HIV epidemic, organized and worked to prevent the federal government from stationing nuclear weapons in New York Harbor, among other issues.
She earned a bachelor's degree from Barnard College and completed graduate coursework in adult learning for a masters degree from Teachers College Columbia University. She has lived in Amherst for 25 years.
Current Committee Assignments (2023-2024)
Mindy is currently the House Chair of the Joint Committee on Tourism, Arts and Cultural Development. She also sits on the legislature's Higher Education Committee.