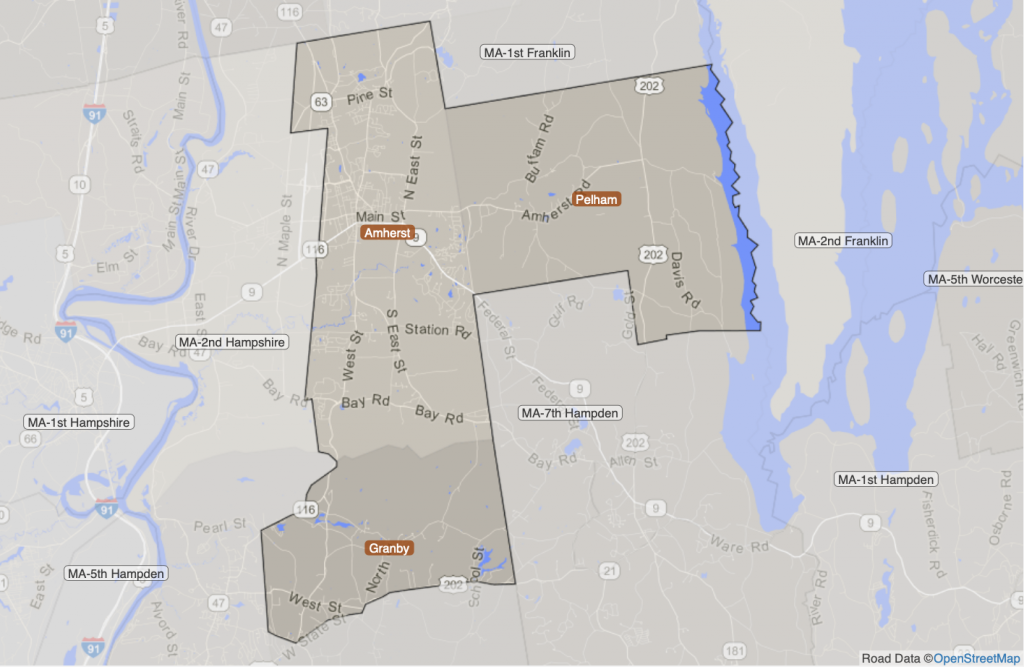 Is Mindy your State Representative? You can find out here.
The 3rd Hampshire District includes the Hampshire County towns of Amherst and Pelham, and precinct 1 of Granby. You can see the density of population by town in the district through this map. You can see the 3rd Hampshire District – and other districts – in the Commonwealth here.
Redistricting
According to the US Constitution, every ten years a total head count or census takes place across the United States. These population numbers are used to re-draw election districts to make sure that every person has a vote and that congressional districts have roughly the same amount of people. On the state level, thes epopulation numbers are used to make sure state representative districts are the same size (in population). The same applies for state senate districts. The 2020 Census revealed that the 3rd Hampshire gained some population, but western MA lost. As a result during redistricting, election disticts in Hampden, Hampshire, Franklin and Berkshire Counties changed, including the 3rd Hampshire.
As of October 12, 2021, the following House districts have been proposed. By November 8, 2021, the Massachusetts House of Representatives will have voted on new "maps" and the Governor will have signed them into law. These maps will go into effect in January 2023, after the November 2022 election.
FIND YOUR POLLING PLACE, CHECK YOUR REGISTRATION STATUS, REGISTER TO VOTE, APPLY FOR AN ABSENTEE BALLOT, here.
Amherst
Town of Amherst offices
Amherst Pelham Regional School District
Amherst Town Clerk
Jones Library (public library of Amherst)
UMass Amherst Library (borrowing privileges are also extended to adult residents of Massachusetts, apply for a borrower's card here)
Amherst Senior Center
Sign up for Town of Amherst alerts
Granby
Town of Granby offices
Granby Public Schools
Granby Town Clerk
Granby Free Public Library
Council on Aging
Sign up for Granby alerts
Pelham
Town of Pelham offices
Amherst Pelham Regional School District
Pelham Town Clerk
Pelham Free Public Library
Council on Aging
Sign up for Pelham alerts