Scroll down for locations in the 3rd Hampshire District and how to access appointments.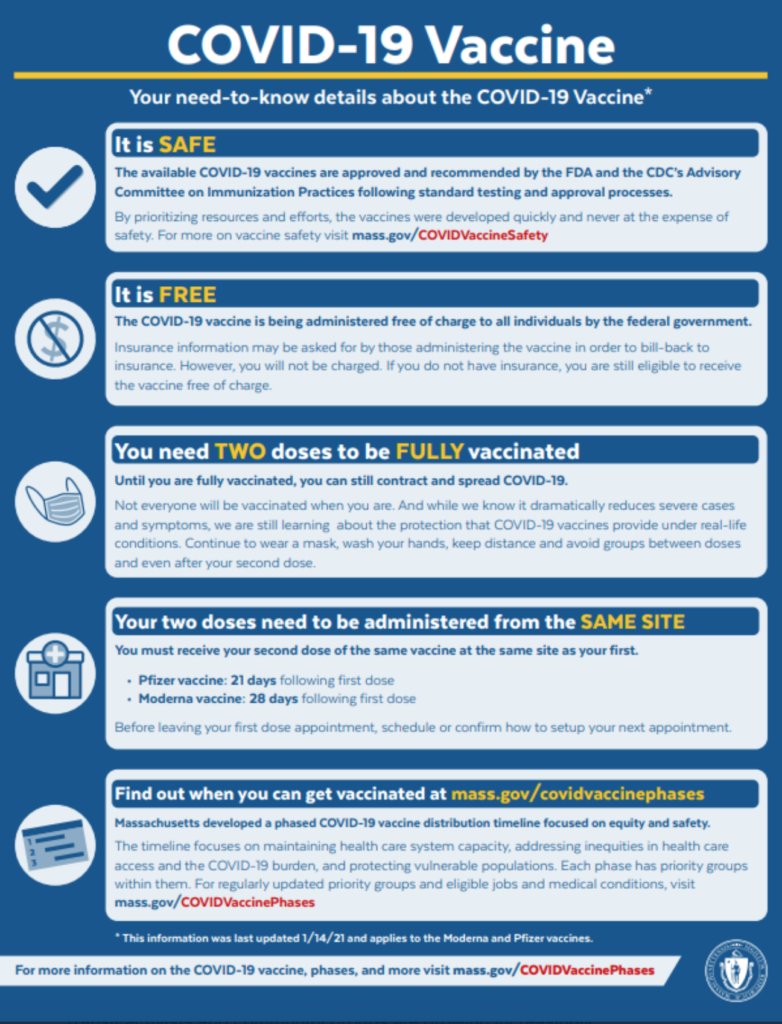 As of March 2021, there are three different vaccines available, but all COVID-19 vaccine is in limited supply, though interest is very high. Limited vaccine supply means limited appointments. The vaccine roll-out in Massachusetts is based on eligibile populations.
Are you eligible for vaccination? You can see the state's phases here.
Eligible populations now (as of 3/8/21) include: health care workers, first responders, 65+ year olds, people with two or more co-morbidities, teachers, early educators/childcare providers, and school personnel.
The state's eligibility tool is here.
Available appointments, based on vaccine supply, and depending on their location, are posted at different sites, days and times. See below. You can try and get an appointment online or by calling 2-1-1.
When going to your appointment, you can be prepared by completing the state's Vaccination Attestation Form. You can download it here, complete it and bring it with you.
Local Vaccine Sites – (as of 3/8/21) pending vaccine supply and appointment availability on the state's site here.
Local Amherst Regional Collaborative Site
At Bangs Community Center
Scheduling opens (pending supply): Mondays 11am for that week
Vaccine used: Pfizer
At Campus Center
Scheduling opens (pending supply): Fridays 6pm for the following week
Vaccine used: Moderna
All sites across MA, including the mass sites in western MA
New appointments have been posted on Thursday mornings
PHARMACY PROGRAM