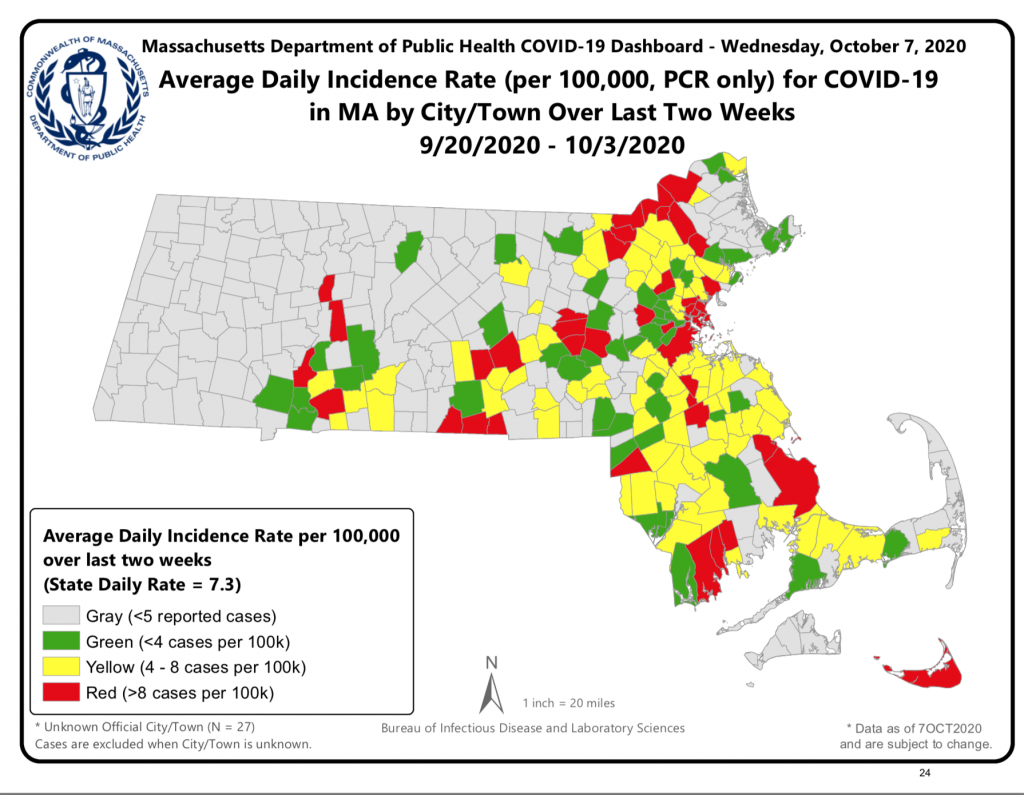 October 8, 2020
A joint statement from Representatives Mindy Domb and Natalie Blais and Senator Jo Comerford:
In light of two of our shared towns going "red" on the statewide COVID-19 map and being described as "high risk" areas, we call on the Baker Administration to collaborate with the University of Massachusetts Amherst and the towns of Amherst and Sunderland to ensure the accurate and timely reporting of data and to support an effective response, including a state-funded free COVID-19 testing site for asymptomatic individuals in Hampshire County and support to school districts serving these communities to mitigate further disruption.
On August 24, 2020, eleven members of the Hampshire County (see attached) delegation wrote to Secretary of Health and Human Services MaryLou Sudders and Department of Public Health Commissioner Monica Bharel to request a stop-the-spread state-funded COVID-19 testing site in Hampshire County. As we noted in our request, "The influx of students and the likelihood that many residents live and work in different communities, often crossing boundaries between low and high risk, underscores the need expressed by our constituents. A county testing site would support their interest in learning their status and taking the necessary steps (self quarantine, isolation, contact tracing) to contain the pandemic." We have yet to receive an official response from the Administration.
While it is by no means a substitute for prevention practices like wearing a mask, social distancing, hand washing, and avoiding large gatherings, testing is detection and can help reinforce prevention. It provides essential information for our communities and constituents in order for them to understand and act on their status. It is key for contact tracers and public health officials as they undertake their invaluable work. Finally, testing is a critical service for our communities as they endeavor to prevent transmission and respond to the outbreaks that have resulted in this new "high risk" designation.
We once again urge the Baker Administration to ensure our constituents have access to the resources they need to identify and respond effectively and quickly to the outbreak, including both the sharing of necessary data and providing access to COVID-19 testing as a public health imperative. The towns of Amherst and Sunderland are in a unique position where data is being collected by two sources for residents: the University of Massachusetts Amherst's outstanding and robust testing program and the local town's public health officers. Aligning these data sources in the most efficient way requires additional state's resources and attention. In addition, Hampshire County needs and deserves a state-funded free COVID-19 testing site for asymptomatic individuals to support our efforts to reduce transmission, limit the outbreak, and protect the health of our communities.
________________________________________________________________________
Click here for a copy of the letter, sent on August 24, 2020 requesting a Hampshire County test site