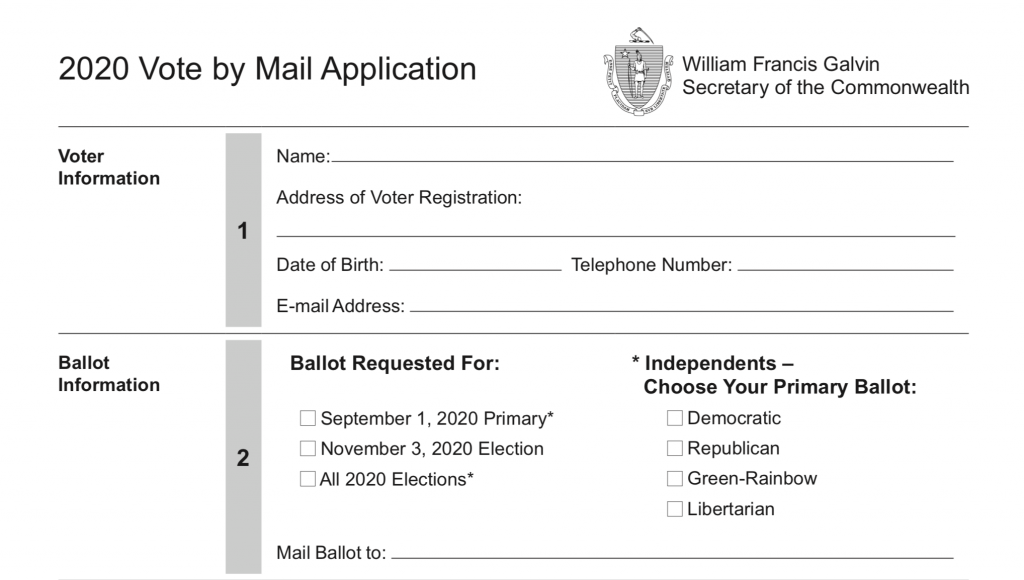 THE DEADLINE TO REGISTER TO VOTE IN THE NOVEMBER 3, 2020 ELECTION IS OCTOBER 24, 2020.
VOTING OPTIONS – HOW WILL YOU VOTE?
Because of the pandemic, there are changes to voting to ensure your safety. There are several voting options to provide people with the opportunity to avoid the polling place and practice physical distancing. The general (and presidential) election is November 3, 2020.
YOU ARE ENCOURAGED TO MAKE A PLAN FOR VOTING –
you have a choice: by mail or in person?
If in person, you can vote on Election Day or during the early voting period prior.
VOTE BY MAIL IN THE GENERAL ELECTION
VOTING BY MAIL IS A 2 STEP PROCESS:
(1) Completing an application for a ballot, and
(2) Completing and submitting the ballot (voting!)
In order to get a ballot, you need to complete an application and return it to your town Clerk. Applications were mailed and you should have received it.
IF YOU DID NOT RECEIVE AN APPLICATION FOR A BALLOT TO VOTE BY MAIL…
Contact your town clerk (here) or download an application (here), print it, complete it, and mail it to your town clerk (postage paid) or deliver it in person to your town's drop box (usually by town hall or the clerk's office)..
WHEN ARE THE APPLICATIONS FOR MAIL-IN BALLOTS DUE?
Your application must be received at your town clerk's office by October 28 for the November election. Once your application is submitted, your town clerk will mail you a ballot with pre-paid return postage.
GETTING AND COMPLETING THE BALLOT
When you receive the ballot, it's important to complete it and return it as soon as possible. It needs to be postmarked by Election Day (November 3) and received by your town clerk by Friday, November 6, 2020 in order to be counted. You can return the ballot in one of these ways: by mail (postage is paid!), in a secure dropbox (by town hall) or in person during early voting. You can find the location of your town's secure drop-box here.
TRACK YOUR BALLOT.
You can track your ballot (and whether or not it has been received and counted) here.
IN-PERSON VOTING IN 2020
In-person voting will be different this year. It will have physical distancing requirements inside the polling place (and may result in less voting booths which may mean longer lines space 6 feet apart). Waiting lines outside the polling place will be using physical distancing as well. Also, all voters will be asked to wear a face covering. There may also be new people working the polls so everyone's patience is appreciated.
IN-PERSON EARLY VOTING FOR NOVEMBER 3RD ELECTION
Early voting for the general election will be over a two-week period from October 17 to October 30, 2020. To find out locations for early voting, reach out to your town clerk's office. For the towns in the 3rd Hampshire District:
It is believed that early voting may have shorter lines and physical distancing will be easier to do than voting on election day. Please remember to wear a mask or face covering when you go to vote and practice physical distancing.
IN-PERSON VOTING ON ELECTION DAY, NOVEMBER 3 GENERAL / PRESIDENTIAL ELECTION
If you plan to vote in person on Election Day, be prepared for changes that incorporate public health guidelines, including social distancing (staying six feet apart) and wearing a mask or face covering.
Election Day hours are 7 a.m. to 8 p.m.
IMPORTANT ELECTION DATES, FOR THE FALL 2020 ELECTIONS
Third week in September – Vote-by-mail application for the general election will be sent
October 17-30 – In-person early voting available at your town clerk's office
October 28 – Deadline for vote-by-mail application to be received by your town clerk's office
November 3 – General election; mailed ballots must be postmarked by this date and received no later than November 6, 2020.